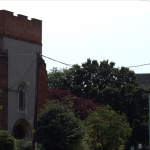 Every Tuesday morning from 10am St Martin's Trimley transforms into a community cafe!
We serve tea, coffee & biscuits and welcome anybody who lives in our community to enjoy the company and our beautiful church surroundings. You do not need to be a regular church goer to come, everybody is welcome!
No booking required just come along,
Please note: Cafe 10 has currently been suspended, we will update this page once it restarts.