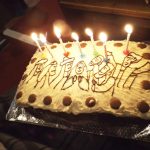 A reflection on Pentecost by Margaret White 
On Sunday the Church celebrated Pentecost – known as the birthday of the Christian church. . And what a spectacular start!  Only a week or so earlier Jesus had told the disciples to wait in Jerusalem for the gift of the Holy Spirit.  I wonder what that meant to them, what they expected as they gathered in a room in Jerusalem? The Bible tells us that there came a sound of violent wind filling the house, tongues of flame on each of them as they spoke in strange languages.  Spectacular, or what?
But that wasn't the end of it.  Jerusalem was filled with Jewish pilgrims from around the Mediterranean there for the festival..They heard the wind.  They heard the disciples speaking in their languages, clearly understandable , and wondered if this group of Galilean fishermen had had too much to drink!
And finally, Peter, Peter who had  been through such a roller-coaster of events and emotions stood up and with new confidence and power preached his first sermon.
Spectacular or what?
But God's spectacular events, like Moses and the burning bush, or Paul's dramatic conversion, are never about the event itself.  The point of them is the spreading of God's message in the world, and the events of that Pentecost, and every Pentecost since then, have the same purpose.  The disciples received the gift of the Holy Spirit from heaven, so that they could tell people about the invitation to participate in God's purposes and his love for the world.  The crowd of pilgrims heard Peter's message. God's Spirit would be freely and generously poured out on all people, young, old, men and women. Peter demonstrated the confidence and energy that the Holy Spirit brings to those who respond to his call.  I like to think that those listening pilgrims would return to their communities with their memories of this day, Spirit-driven and Spirit-led.
God still  longs to pour out his Spirit on everyone – all we have to do is ask. Are we prepared for the wind and fire of the Holy Spirit to give us a new understanding of God's call?
And do we as the church have enough Spirit-driven, Spirit-filled new life and energy to continue to build on the positive changes we've seen over the last few months, a new awakening in matters of faith, a new opportunity to ponder the big questions,  a revived gratitude for unity and community among churches and neighbours?
Happy birthday, Church